Crossing Paths: Where Prefabrication Meets Architectural Beauty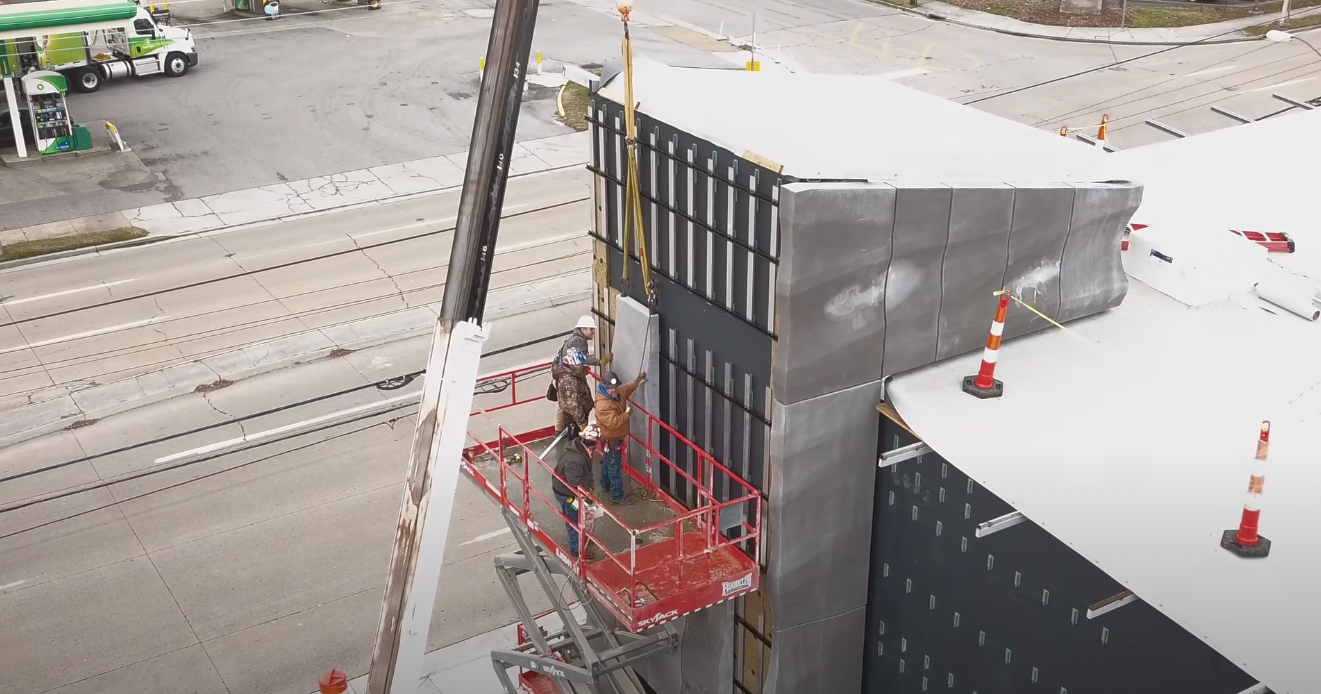 For architects, it is fundamental to train your mind to think outside of the box. In fact, it is one of the concepts that is preached to architecture students at universities worldwide. However, once in the real world, many architects find themselves having to work within a defined box of design constraints that diminish the ability to create freely.
Periodically, new technologies and innovations emerge that permit architects to tap into their full creative potential and break through the previously existing design barriers. These technologies reimagine what's possible.
Branch Technology is affording architects such freedom. Through a combination of 3D printing and prefabrication, designers are able to tap into new forms of architectural beauty that materialize as never-before-seen, large-scale building facades.
Thinking Outside the Box
Consider the traditional approach to fabricating and installing a facade for a commercial building exterior. If the cladding specification calls for metal cladding, standard sheet goods are shipped to the job site and the panels are fabricated on site before being installed.
On-site fabrication offers significant room for error and includes a limited number of fabrication choices, significantly narrowing options for the structure's overall form, shape, or design. There is less control over quality compared to prefabrication and work may be completed by parties not familiar with the available materials, leading to lower quality work. Often, the result is a flat, square facade and a traditional, boxy building.
Recreate the same scenario, but in this example, the architects opt for a 3D-printed, prefabricated facade in the early phases of planning. The facade is designed digitally and features intriguing shapes. These digital shapes are then 3D printed to perfection through a fabrication process conducted under the supervision of an expertly-trained workforce at Branch Technology.  Because the materials are processed in a controlled environment with high-tech tools, wall panels appear exactly as they were designed to look and can be used to create articulated, one-of-a-kind facades.
When panels can be engineered in a controlled environment with a staff that possesses a precise understanding of how 3D-printed cladding should be fabricated, it provides a significant advantages over on-site fabrication. It also yields significant savings in both time and money to the installation team and the building's owners.
Powered From Within
At Branch Technology, all cladding projects start with C-Fab®, or cellular fabrication. C-Fab® is the technology behind BranchMatrix™, which is the backbone to any Branch Technology building facade. This 3D printing process creates open-cell structures that can take any shape or form. These 3D-printed structures are then filled with closed-cell insulating foam and milled by robots to their precise geometric surface.
By combining C-Fab® technology with direct digital manufacturing (DDM), Branch Technology integrates design and manufacturing all under one roof. Creating from digital files allows architects to design waving, rippling, undulating, and many more decorative or patterned facade assembly designs to be fabricated at construction scale. This unparalleled freedom of design also offers an unmatched strength-to-weight ratio.
This results is beautiful, strong, and sustainable facades that create unprecedented building exterior designs, delivering benefits to the owners, installers, and eventual occupants.
Branch Technology facades add a new layer of dimensionality to a building by using patterns and forms to articulate a particular idea. Parametric or generative-style modeling are both well-suited for this type of technology, and architects can harness its power to create truly bespoke building skins that achieve the pinnacle of curb appeal.
Beyond the Beauty
The tangible benefits of digital prefabrication go beyond aesthetics.
Waste Reduction: Thirty percent of the waste in our landfills comes from construction and material waste on job sites. By only printing what is needed, C-Fab® and 3D printing can reduce the amount of waste generated during facade construction by as much as 95 percent.
Labor Efficiencies: Laborers can spend up to 40% of their time on a job site walking around and transporting materials. With prefabrication, materials are where installers need them on the site and delivered at the time of installation. This alone creates significant labor efficiencies compared to on-site fabrication.
Streamlined Timelines: Prefabrication changes the expectation for owners with regard to project completion date. Installation of a building facade using standard methods might take six months or more. However, with prefabrication, full assemblies are ready to be installed upon delivery. This can reduce the construction timeline for a facade from six months to six weeks. Subsequently, this also minimizes the general conditions of a project such as road closures and equipment rental timeframes.
Job Site Efficiencies: Large wall assemblies delivered to construction sites as complete pieces can significantly reduce (or outright eliminate) required laydown space usually necessary for on-site assembly, meaning project teams do not need to rent extra land to assemble and store materials while waiting for installation.
Sustainability: Branch Technology's prefabricated cladding options – BranchClad™ and StoPanel® 3DP – are lightweight products that reduce dedicated loads going in and out of a job site reducing overall fuel consumption of a project.
A Perfect Marriage
 3D printing and prefabrication are a picture-perfect blend of technologies that are paving the way for new levels of architectural beauty.
The foundation of the process is digital manufacturing, which sets the stage for pinpoint accuracy from the very start. When the digital design is transmitted to a 3D-printing robot, an architect's exact vision is printed into 3D patterns, flowing shapes, and distinct forms unattainable with traditional materials and fabrication methods. Combine all of this in a prefabricated package that is ready to be installed as soon as it arrives to the job site, and the intersection of prefabrication and architectural beauty is fully realized.
At Branch Technology, we are changing how the industry thinks about cladding and how architects are designing large-scale building facades. From job site efficiencies to unmatched exterior designs that offer exceptional thermal performance, 3D-printed building facades are challenging the status quo for commercial design.